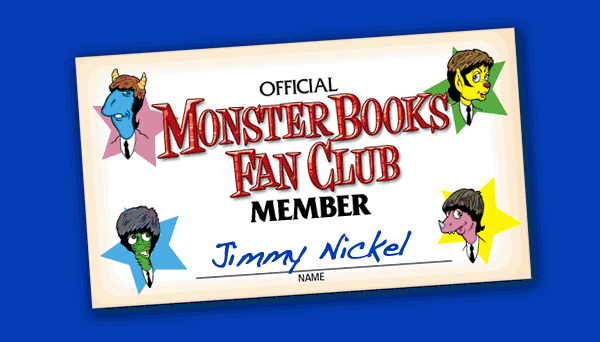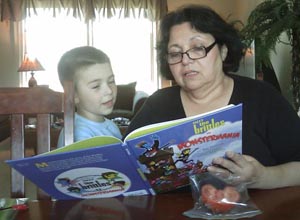 Monsterbooks' first official fan club member, William Barrows, makes Grandma read Monstermania five times!!
Coming Soon!!!
The MonsterBooks Fan Club!
Hello Monster Lovers.
You can join the official Monsterbooks Fan Club and receive all of these great benefits!

The Monsterbooks Fan Club makes sure you're in the know about the new Monsterbooks releases, events, and merchandise. Periodic email newsletters will provide you with information from other members latest stories, and information and greetings from other Monsterbooks fans across the world and much more.

When you join the Monsterbooks Fan Club your membership includes all of these great benefits:

• Monsterbooks Fan Club Membership Card for each member

• Fan Club membership Lapel Pin (approx. 1-1/4" wide)

• Members-only Discount on Monsterbooks merchandise

• Advanced notification on all live appearances

• Opportunity to purchase first edition autographed copies of each new Monsterbook.

• Periodic E-Mail Fan Club/Monsterbooks updates Keeping you up to date on Monsterbooks releases, merchandise, members, and unique opportunities for you as a member.
PLUS a 10% discount on purchases at the Official Monsterbooks Store
Note: Domestic (U.S.) shipping is free for the membership kit. It is sent First Class and via Priority Mail if ordered with the poster.

Display your Monsterbooks Fan Club membership status proudly!

Sign up online for your membership today!

Prefer to mail your membership in? Download our printable membership form

Please allow 4-6 weeks for delivery of your Official Monsterbooks Fan Club Kit.